Updates
This page is for the frequent visitor to find out what's new. This web site has grown so large, that it is even difficult for me to keep track of what is

. So here is a page to let you know what and when changes have been made. Last Updated: 4/30/2021
I hope you enjoy your visit. Good Hunting... from Varmint Al

Updated Computer Page to reflect the Linux Mint Cinnamon software I use Computer Page 4/30/2021
Added a Linux executable file to calculate MAT_018 for a Linux system Engineering Page. 3/9/2016
Added executable files to calculate MAT_018 and MAT_098 material properties not listed in the database Engineering Page. 2/18/16
Added two new sounds (Snowshoe Hare Distress) to the Coyote Hunting Page 4/4/2015
Converting over to Linux Mint

and giving up on MS-Windows. See my Computer page 10/6/2014
The Lycos Guest Book is no longer supported so I removed it from the page. 2/10/12
Added a Red Head Woodpecker MP3 sound file courtesy of Coon Skinner. 1/3/12
Added Piecewise Linear Plasticity With Failure the LS-DYNA (MAT__024) Download to the Engineering Page. 5/6/11
Added Dick Wendell's Weasel Ball Decoy Improvement plus Video Download. This shows the action . Hunting Page 2/12/11
Fixed the 16 minute sequence of Chris Butcher's Excruciator call. Note: Removed recording clicks. Hunting Page 2/12/11
Added A 16 minute sequence of Chris Butcher's Excruciator call. Hunting Page 1/25/11
Added Johnson-Cook Plasticity and Power Law Plasticity WITHOUT failure strain 9/6/10
Updated the Grade 8 10/32 bolt calculation on the Home page and Engineering Page. 6/21/10
Downloads for LS-DYNA materials including Failure Strain for Johnson-Cook Plasticity & Power Law Plasticity parameters of 1,044 materials. The new files include Effective Plastic Failure Strain in 5 different unit systems . See Engineering Page. 7/7/10
Downloads available for Johnson-Cook Plasticity parameters of 1,044 materials (LS-DYNA Materials 15 & 98) in 5 different unit systems. See Engineering Page. 4/12/10
Displayed this website's Traffic for 2009. 1/3/10
Evidence the my Calling Sounds Work! 12/28/9
Updated my list of Coyote Calls I carry in my fanny pack. My Calls. 8/2/9
Added the Democrat Health Car chart to the Gun Rights & Politics Page. 7/27/9
Loaded Windows 7 Release Candidate 64-bit on one of my computers. Benchmark Test here. 7/24/9
Updated the Site Map because of many changes 6/25/9
Calculated Brass Case Head Expansion vs Peak Chamber Pressure Here. 4/13/9
Added "What does a Trillion Dollars look like? to the top of the Gun Rights & Politics Page. 3/24/9
Added an FEA Analysis of a Remington Model 7 action firing a 243 Win caliber brass. Here. 3/20/9
Added the MAT_018 Material Data Base in four (4) unit systems. See Engineering Page. 3/1/9
Updated the rifle barrel vibration mode shapes and frequencies page using a 308 Win Barrel. 1/23/9
Added tiny dogs chasing a chicken sound file. Go here. 1/16/9
Added difference between a K-Net node and a KaNode in a KPC-3 TNC. See Ham Page. 12/27/8
Verified accuracy for the MAT_018 Material Model used with LS-DYNA. See Engineering Page. 12/11/8
Updated the Rifle Chamber Finish Page. Calculations done with LS-DYNA in 2D. 12/8/8
Bart our Black Lab had puppies. Well not exactly - Sadie helped. See Bart and Sadie here. 12/4/8
Added scared tiny dogs barking sound file. It might work for call wise coyotes. Go here. 11/27/8
Added two new sounds made with the squeaker from a dog squeaky toy. Go here. 10/27/8
Found the old tape where Varmint Al was mentioned on Rush. Go here. 10/24/8
Calculated Esten's Rifle with a Bullet being fired. Bullet in the Bore. 6/18/8
Added a Subject Index page to make it easier to find a particular subject. 6/5/8
Added a page on my experiences installing Windows Vista Home Basic (upgrade) Vista Weekend. 4/12/8
Added a page on 22LR Rimfire Benchrest Rifle with/without a tuner 22LR Page. 1/30/8
Calculated the Ladder Test for Esten's Rifle with/without a Tuner on Esten's Rifle Page. 12/15/7
Added a Callsign Lookup option to the Ham Radio Page. 12/1/7
Added charts on a Barrel Length vs Accuracy & Muzzle Velocity for the 233 Rem on the Light Rifle Page. 11/19/7
Added a Calculation vs Test results for a "Bong Test!" of Esten's Rifle 10/31/7
Added a Scope Elevation Click Table to the 17 HMR Page that you can print and paste to your rifle's stock. 9/10/7
Updated the Trajectory Charts on the 17 HMR Page. 9/8/7
Front Rest placement and the effect on Point of Impact. Front Rest Study. 9/3/7
Added a page on Esten's Rifle with/without a tuner Esten's Rifle. 8/6/7



Calculated Barrel Dynamics for a Light Rifle with/without an 8 oz Tuner Light Rifle Page. 6/25/7



Calculated the barrel dynamics for various Fluted Barrels Fluted Barrel Page. 6/18/7



Improved the FEA model of the rifle and ran a number of new calculations with and without a tuner on the Barrel Pressure Page. 5/23/7
Added a FEA Pressure Distortion Analysis of a 6-PPC barrel on a new page: Barrel Pressure Page 4/20/7
Add higher mode shape pictures and clarified the wording on the Barrel Tuner Page 4/12/7
Added a test modal calculation to check the FEA for accuracy on the Engineering Page. 4/4/7
Added info on how to build a Cheap Adjustable Front Rest to the Bi-Fur-Pod Page. 4/4/7
Added an audio clip of Charlton Heston reading from the writings of Michael Crichton. Gun Rights and Politics Page. 3/2/7
Added a woodpecker distress sound file to the Hunting Page. 2/15/7
Added two MP3 sound files each with a single howl made with the E.L.K. Power Howler to the Hunting Page. 2/4/7
Directions to build the Hummock Decoy on the Hunting Page. 2/1/7
Added info on the computer tools I use to keep my computer running smoothly. Computer Page. 1/12/7
Howard Drummond recorded two good quality siren locator sound files. Download them here Hunting Page. 1/3/7
Updated the Wireless and FireFox info on the Computer Page. 12/25/6
Added 5 sound clips of Pop talking about the old days. Pop in his own words. 6/19/6
The Old House, one of the places where I coyote hunt, burned down. The Old House Tribute Page. Large pictures-not for dial up. 5/27/6
El-Cheapo caller works. Here is a picture of the coyote. 5/25/6
Added pictures explaining how I play "Father Nature" and get early zucchini squash for the table. Squash Pollen. 5/4/3
Added a Java Script Recoil Calculator on the Shooting Page. Recoil Calculator. 4/26/6
Added more pictures of Bethel Island. Bethel Island Pictures. 4/20/6
Any one in the Redding, CA area who wants a great looking dog? Click here: Dog for adoption. Good News. Dog found a home.

Added two calling sequences from Al Prather on the Coyote Hunting Page. 3/2/6
Described an El-Cheapo Electronic caller on the Coyote Hunting Page. 2/12/6
Added some pictures of an old abandoned house at the top of my Hunting Stories Page. 2/10/6
Re-mastered most of the calling sounds and added a couple new ones on the Coyote Hunting Page. 2/10/6
Group howl with 3 different calls in one sound file. Look for group2.mp3 on the Coyote Hunting Page. 2/4/6
Added a Sample Calling Sequence MP3 file to the Coyote Hunting Page. 1/29/6
Added one large zip file that includes all 14 of the MP3 sound files Coyote Hunting Page. 12/6/5
Added 2 sound files in MP3 format with the Wiley One Howler Coyote Hunting Page. 11/18/5
12 Free Coyote Calling sounds in MP3 format on my Coyote Hunting Page. 10/23/5
Added details of a "Two Coyote Day" to the Coyote Calling Page including 3 new calling sounds in MP3 format. 10/12/5
Made a Quick Start Guide for posting pictures on Forums. Posting Pictures. 10/9/5
Found an old floppy disk from early 1997 with my very first web page on it. See it here. 8/12/5
Walt Craig has designed the Tri-Fur-Pod for a more steady shooting rest. Bi-Fur-Pod Page. 8/27/5
Winning the Cookie War with FireFox. Computer Page. 8/21/5
Added Trip Report to the Sweetwater Mountains with Tide my Black Lab. 7/9/5
Included the 6 free calling sounds in MP3 file format on my Hunting Page. 5/25/5
Added a page of Calling a Coyote with included calling sound files in MP3 format. 5/21/5
Working on a Rifle Barrel Tuner Vibration Analysis page. 3/20/5
Working on Bonales Archery Page to help my hunting buddies out. 3/12/5
Added a couple of new picture of Tide at 2 years of age. 3/5/5
Added some info on Computer Security and Mozilla Firefox on my Computer Page. 1/28/5
Exceeded allowable bandwidth again. I have added the Google Ad and Google Search to try to break even. 11/19/4
Updated the Network Node list and more on the Ham Radio page. 11/12/4
Added Greg's 17 HMR penetration test pictures to the 17 HMR page. Thanks Greg. 11/11/4
Added a Rockwell C hardness calculation page Rockwell 11/7/4
Removed most of the broken links on the Links Page. 8/5/4
Updated the Site Map to include all the new pages. 7/29/4
Today is Pop's 95th birthday. Happy Birthday Pop. 7/9/4
Added a Tribute to my Dad on Father's Day. 6/20/4
Had success with the two new L&M Predator Calls. Pictures and stories on my Hunting Page. 5/20/4
Added Dick Hatfield's Friction Test Results for 416 Stainless Steel on Cartridge Brass. 3/21/4
Added steps to from 17 Mach IV brass from 223 Rem brass on the Reloading Page. 2/27/4
I have signed up for an affiliate with

with an Info Page to help anyone interested in making their own web page. 2/14/4
The Hunting Page has exceeded the 3/4-million hits on the single page.
1/18/4
A peek inside. You can view the traffic at www.varmintal.com here: http://www.varmintal.com/globat/webstats/ 1/18/4
A peek inside. You can view the traffic at www.varmintal.net here: http://www.varmintal.net/globat/webstats/ 1/18/4
All 10 of the .pdf targets have been zipped into one file for easy downloading. Free Target Downloads. 1/17/4
Finite Element 3-D analysis of the Bat Machine rifle action. 1/8/4
Growing pains. The traffic at VarmintAl.com with DotEasy had exceeded their allowable limit. I have moved www.varmintal.com over to Globat.com. Now both www.varmintal.com and www.varmintal.net are with Globat.com. All appears to be working very well. 12/24/3
Coyote Attacks on Children reports compiled by Robert Jump. 12/10/3
Six free downloadable 60 second coyote calling sequences posted on the Coyote Hunting Page. 11/30/3
Updated the Engineering Page and added a 3-D tuning fork modal analysis with animated gif files. 11/12/3
Added a animated .gif of the deformations that occur in the 0.41 friction coefficient case Rifle Chamber Friction. 10/17/3
Calculated the affects of Rifle Chamber Surface Finish on bolt thrust Rifle Chamber Friction. 10/2/3
Calculated the stresses and deflections in a Stolle Panda rifle action Bolt Stress Page. 9/24/3
Trout Fetching Dog. Bart fetches trout better than a landing net. 9/19/3
Coyote Calling Dog. Bart does a good job hunting coyotes. 9/19/3
New Coyote Call works well. 9/19/3
New CZ 452 American rifle in 17 HMR. Shot some groups and posted them on the 17 HMR Field Testing Page. 6/20/3
Added instructions to the Guest Book Page to prevent email harvesting 5/30/3
Removed numerous broken links from the Links Page and others. 5/29/3
Added a
Sponsors Page for companies that have my respect and support. 3/26/3
With the new www.varmintal.net domain, visitors can view the site's traffic statistics. Click here for the Feb 2003 info. 3/23/3
Removed the old and outdated links that were at the bottom of the Links Page. 3/22/3
Started Tide's Web Page. 3/18/3
First picture of Tide, Bart's puppy is on Bart's Web Page. 3/5/3
Back to July 31, 1997. Here is how the Varmint Al's Hunting Page looked then. 3/2/3
Added Muzzle Brake Considerations to the Shooting Page. 2/20/3
Added Ballistic Calculation results to the 17 HMR Field Testing Page. 2/15/3
Updated the Packet Network info on my Ham Radio Page. 2/14/3
Added info on The Difference Between the Contender & Encore firearms. 1/26/3
Added the Barrel Vibration Mode Shape page with movies of the first 9 vibration mode shapes. It is only on the new www.varmintal.net site because it is quite large. 1/19/3
Added a new domain name. www.VarmintAl.net has been activated at Globat.com. Throughput was going to cost too much at DotEasy. This should handle the traffic. All the pages are graphics intensive and if some pictures don't load, hit your refresh button. 1/14/3
Added Bill D's 17 HMR Penetration Test pictures to the 17 HMR page. 11/18/2
Added a modes.zip file to the Fluted Barrel Page to view the first 9 3-D Mode Shape movies. 11/17/2
To speed up page viewing and save bandwidth, I moved all link lists to the Links Page. 9/22/2
The Hunting Page has exceeded the half-million hit count.

Total hit count, sum of all pages, is 3 million. 9/8/2
Have decided take some Engineering Consulting jobs as time allows. See my Engineering Page. 8/13/2
Added a Fluted Barrel Stiffness Calculation page. Fluted Barrel Calculations. 6/27/2
Separated out a Free Targets Page, Bi-Fur-Pod Page, and Hunting Success Story Page. 4/22/2
Tested the 17 HMR on the benchrest for accuracy and velocity. The info is posted on the 17 HMR Testing Page. 3/31/2
The new 17 HMR barrel from Bullberry arrived and here are the results of the first ground squirrel hunt. 3/23/2
The
Bolt Calculator Program and the

Gas Calculator Program have been ported to Visual Basic by Paul Bussieres of Canada. They work very well. Download them from the Engineering Page and give them a try. 3/13/2
A new
Gear Setting Calculator for the Mini Lathe written by Paul Bussieres of Canada is on the Mini Lathe Page. Download it and give it a try. 3/5/2
Bart passed the 4th leg of the Junior Hunter Test Feb 17, 2002 and earned his Junior Hunter Title see Bart's Labrador Retriever Page. 2/18/2
Pheasant Season 2001-2002 is over. Pheasant hunting results are posted on Bart's Labrador Retriever Page. 2/11/2
At a total count of 2,350,537 on all the pages with counters, I removed all counters except for the Hunting Page and Email Page. This will save a little time when pages load now. 2/3/2
Updated the Ham Radio Page and changed the WALACE network node to TRACY. 1/5/2
Made most of the links open in a "New Window" for ease of navigation. 1/2/2
Removed my Email Address from access to the automatic "harvesters" and made an Email Page. 12/21-1
Added a link to John Dumas' professionally written GearsVB095.ZIP (4.6Mb) threading gear code on the Mini Lathe Page. 12/18/1
Added Pheasant Season's hunting results to Bart's Labrador Retriever Page. 12/14/1
Added a Quick Start Manual
for people to make their own web page. 11/24/1
I have registered my domain name. It is varmintal.com or www.varmintal.com and either one will work. I am using the service of DotEasy.com for my web hosting and it is working very well. Please change your links to my page when you have time. I will keep the old www.varmintal.com/ site active for a long time while the links are changed. 10/23/1
Have Computer will Webmaster for Hunt! I made the following web site for LIMIT OUT, INC and they have their own domain. 10/21/1:




Duck & Pheasant Hunting Club on Bethel Island
Added an extensive material.txt data base of the material properties for over 1000 structural materials. The data is in English Units. 9/26/1
Added a link to OnlineMetals.com. I get a small commission if you buy metals from my link. 9/22/1


Get materials from Online Metals in any quantities/sizes. 9/22/1
Generated a Mirror Site for my web page. It is at Freedom2Surf in England. Here is the URL: www.varmintal.f2s.com If you have trouble connecting to the main site, you can always try the mirror site. There are no ads or pop-ups at the mirror site. 9/12/1
Second hunt with Pat and he has learned coyote howling. We now do dueling coyote howls and it works. 9/5/1
Added New Success Story. Took Pat coyote hunting and he got his first coyote, see the Hunting Page. 8/29/1
Over the 2 million hit mark! The total hit count sum on the pages that have counters was 2,026,836 hits as of 7/21/1
Removed email addresses from the GuestBook. I had been notified that someone was using the listed email addresses to send Spam. If you want to reply and leave an email address for an answer write your email address in the text, but instead of using the @ sign, use (at), such as varmint(at)DittosRush.com and the address can't be harvested automatically. 6-30-1
Added New Coyote Calling Tricks with sounds to the Hunting Page. 6/23/1
Added info about Javelina Calling by AP Jones to the Hunting Stories Page. 6/14/1
There is a new and better GEARSVB.EXE program for calculating the Mini Lathe thread cutting gear settings on the Mini Lathe Page. 5/11/1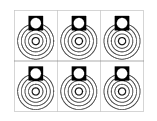 br12.pdf A modified Benchrest target. Replaced the free targets with high quality free targets in pdf format on my Target Page. 3/30/1
Added info on the Toshiba T1000SE laptop on my Ham Radio Page. 3/3/01
Added The Boar by Zech on the Hunting Stories Page. 2/17/01
Added Ralf's Deer Hunting in Finland on the Hunting Stories Page. 2/16/01
Checked and removed broken links on most pages. 1/1/1
Added The Accidental Deer Story by Megen to the Hunting Stories Page. 12/30/00
Removed most of the references to Clinton, Al Gore and the attempt to steal the Election from the Gun Rights & Politics Page. 12/27/00
Saved the old Gun Rights & Politics Page for historic references Here. 12/27/00
Fixed the link to View Guestbook. The provider had changed the URL and I didn't catch the error. Thanks to those who pointed it out. 11/30/00
Removed the CA voting recommendations, but am keeping the Gun Rights & Politics Page in full Bush/Cheney support. 11/30/00
Added links and info to Voter Fraud and an excellent article by Cook on the Gun Rights & Politics Page. 11/30/00
Added my Voting Recommendations for CA including the 8 Propositions on the Gun Rights & Politics Page. 10/16/00
Added a new guest book. The old one was not working anymore. View My Guestbook
Sign My Guestbook 9/24/00
Added email from Jose. Eleven years old and required to choose a country. 9/18/00
Added Coyote Talk with a Howler to the Hunting Page. 9/16/00
Added a link to Save Our Scouts! on the Gun Rights & Politics Page. Support the Boy Scouts and sign the petition to the National Council of the Boy Scouts of America. 9/2/00
Added the Stop & Drop Calling & Fishing Trip report to the Hunting Story Page. 7/15/00
Removed old links from the top of the Gun Rights & Politics Page. 6/28/00
Added Klaus' Roe Deer Hunt in Denmark to the Hunting Stories Page. 5/21/00
Added the Spring 2000 Sage Rat Hunt to the Hunting Stories Page. 4/15/2000
Added My Favorite Rifle to the Shooting Page. Favoritism is OK with rifles. 4/7/2000
Added Polishing my Chambers to the Reloading Page. 4/4/2000
Added Click chart table for three rifles on the Shooting Page. 4/3/2000
Added "Lenin must have been a Democrat!" to the Gun Rights & Politics Page. 3/29/00
Added a picture of my tool bit grinder to the Mini Lathe Page. 3/8/2000
I have registered my own domain name. www.VarmintAl.com will direct viewers to my web page. 2/26/2000
Added BUSH2000

I support George W. Bush for President to the Gun Rights & Politics Page. 2/25/00
Added Varmint Al's Voting Recommendations on the Calif. Propositions, March 7, 2000 to the Gun Rights & Politics Page. 2/23/2000
Updated the Links Page. 12/23/99
Added a page for Bartholomew our new Black Labrador puppy. Today was his first hunting day. See the Labrador Retriever Page. 11/21/99
Added info on WALACE my K-Net node near my cabin plus information on Net Work nodes and their operation on the Ham Radio Page. 11/21/99
Updated the 2m Packet info on DELTA, my K-Net node serving the East Bay and San Joaquin Valley regions of CA on the Ham Radio Page. 11/6/99
Added an update from the VetoTheGovernor.org results on the Gun Rights & Politics Page. We failed BUT... 10/21/99
Added Seeing More Deer using a Better Fawn Bleat on my Hunting Page. 10/20/99
Added three improvements to the Bi-Fur-Pod on the Hunting Page. 10/5/99
Updated the Ham Radio Page correcting the station info and adding a couple of new links. 10/1/99
Added links to Web Pages of Friends and Family on my Home Page. 9/30/99
Added Got My First Groundhog by Kirk in Ohio to the Hunting Stories Page. 9/30/99
Changed the Clicks Made Easy program to work for most scopes that have a click elevation turret. Changes on the Shooting Page. 9/28/99
Added Pat Buchanan's stan

d on the Second Amendment to the Gun Rights & Politics Page. 9/24/99
Changed the scope click calculator, Clicks Made Easy, for the Tasco 8-32X by 50mm World Class Plus Scope turret divisions on the Shooting Page. 8/17/99
Removed a Great Muzzle Brake design from the Shooting Page. Too many people were worried it might be too quiet. On a 22-250 I doubt it. 8/24/99
Added a Ultra-Fine Power Feed to my Mini Lathe and show pictures of it on the Mini Lathe Page. 8/4/99
Added a scope click calculator, Clicks Made Easy, to the Shooting Page. 7/31/99
Added info on Muzzle Crown Touch-up on the Shooting Page. 7/24/99
Added info on Helping to Repeal SB23, California State Senator Don Perata's assault weapons Gun Grabbing Bill on the Gun Rights & Politics Page. 7/18/99
Fixed the zip file problems with the Dsl0617.zip file. It now requires two files because of the new Yahoo/Geocities policy. 7/17/99
The Geocites Varmint Al pages are merely pointers to the cctrap.com pages. Please let me know if there are any problems with delays loading any of my pages. 6/29/99
Fixed the Hit Counter. It was counting only one page. Installed a counter on each web page. Total hits were >400,000 for both the cctrap.com and Geocities pages combined as best I can tell. 6/25/99
Alamo-Girl's DownSide Legacy Virtual CD Update 6/17/99 available for free download NOW! On the Gun Rights & Politics Page. 6/21/99
Added some new links to Max's Bichon Page. 6/20/99
Added a link to the Rudman Report on the Gun Rights & Politics Page. 6/20/99
Added Thanks to NRA, GOA and Conservatives.

NRA Alert Worked!

Added to the Gun Rights & Politics Page. 6/20/99
Added info on Polishing Rifle Dies on the Reloading Page. 6/17/99
Added info on Fine Finish Cuts on the Mini Lathe Page. 6/17/99
Added a link to
Bumper Sticker. I am proud of My President! On the Gun Rights & Politics Page. 6/11/99
Added a link to the NFA. The United Voice of Canada's Responsible Firearms Owners on the Gun Rights & Politics Page. 6/11/99
Added another coyote picture to the Varmint Hunting Page. 6/5/99
Added the

Cox Report with internal links, formatting, and graphics for downloading. The instructions are on the Gun Rights & Politics Page. 6/2/99
Added the Site Map to the table of pages at the top of each page. 5/30/99
Added the Cox Report (454 Kb) as a downloadable zip file. Go to the Gun Rights & Politics Page for instructions. 5/25/99
Removed the Starr Report and Judicial Watch report from the Gun Rights & Politics Page. 5/23/99
Added a
Complete Site Map to make it easier to see all the pages that are at this site. 5/23/99
Added the

search engine to the bottom of this page. 5/16/99
Alamo-Girl's DownSide Legacy Virtual CD Update 5/10/99 available for free download NOW! On the Gun Rights & Politics Page. 5/11/99
Added a List of Laws broken by the two Columbine High School bombers on the Gun Rights & Politics Page 5/9/99
Added a note on Clean Barrel Accuracy on the Shooting Page 5/6/99
Added Charlton Heston's NRA Keynote Speech to the Gun Rights & Politics Page 5/2/99
Added Charlton Heston's Speech to the Yale University Political Union to the Gun Rights & Politics Page 5/2/99
Added many Bichon Frise Links to the Bichon Frise Page for Mary Ann 5/1/99
Added a Metric thread Change Gear Table including a 21 tooth gear on the Mini Lathe Page. 4/28/99
Added IMPOTUS' latest Anti-Gun Rights Quote to the Gun Rights & Politics Page. 4/28/99
Added How to Stop School Shootings by John R. Lott, Jr. 4/21/99
Borrowed a Sony MVC-FD81 Camera and added some new high quality pictures to the Mini Lathe Page. 4/18/99
Added a picture of the 223 Ackley Improved, 223 Rem, and 23/40 on the Shooting Page. 4/17/99
Added pictures of the twins at 2 yr. to the Home page. 4/17/99
Clarified the information on Truing Chuck Jaws on the Mini Lathe Page. 4/16/99
Added a Mystery Flower picture from my mountain cabin to the Bethel Island Pics Page. Can you identify it? 4/15/99
Updated the Links Page to remove numerous dead links and add the new links from the other pages. 4/10/99
Added Concealed Carry Laws Safe to the Gun Rights & Politics Page. 4/10/99
Rearranged the Gun Rights & Politics Page and checked for and removed dead links. 4/10/99
Added a few more new links to FReepers with Web Sites on the Gun Rights & Politics Page. 4/8/99
Added a Tap Drill Chart to the Mini Lathe Page. 4/7/99
Added an article on How Gun Control "Worked" in Jamaica by Tina Terry on the Gun Rights & Politics Page. 4/5/99
Added ten new links to FReepers with Web Sites on the Gun Rights & Politics Page. 4/2/99
Added Bob's Ground Squirrel Shoot hunting story to the Hunting Stories Page. Bob gives a good description of the hunt. 3/31/99
Added a link to the Citizens Committee for the Right to Keep and Bear Arms on the Gun Rights & Politics Page. 3/30/99
Added a short list of World Wide Web Search Engines at the bottom of this page. 3/30/99
Added TREASON Allegations Timeline – Clinton Administration 1993 to Present. Download the Word .doc file. 3/29/99
Added a section Make Your Own Web Page on my Hunting Page with links to Geocities and HTML info sites. 3/28/99
Alamo-Girl's DownSide Legacy Virtual CD Update 3/25/99 available for free download NOW! On the Gun Rights & Politics Page. 3/27/99
Added 3 pictures on my new computer room cat on the Bichon Frise page. Max is getting along ok with the cat. 3/26/99
Added info on Gun Law Suits Off Target, Benefits Of Gun Ownership Exceed The Costs. Posted on the Gun Rights & Politics Page. 3/26/99
Corrected the Bethel Island Map on the Bethel Island Pics page. 3/20/99
Added info on Centering the Half Nuts on the lead screw on the Mini Lathe Page. 3/16/99
Varmint Al's Latest Updates Page was mentioned on the Rush Limbaugh program by a lady searching for Charlton Heston's Harvard Speech. 3/16/99
Added pictures of the carriage Chip Guard, Mini Lathe Name Plate, and the end play Washer on the lead screw all on the Mini Lathe Page. 3/15/99
Added info and a picture of the circuit board on Slowing Down the Speed on the Mini Lathe Page. 3/15/99
GOOD NEWS! Varmint Al's Gun Rights & Politics Page was mentioned on the Rush Limbaugh program in the 3rd hour. A lady called in and told Rush she found Heston's Harvard Speech here in only 20 minutes of searching. Varmint Al's big showbiz break! 3/15/99
Added Charlton Heston's speech
"Winning The Cultural War" delivered at the Harvard Law School Forum Feb 6, 1999. 3/14/99
Started this Updates Page 3/13/99
Added three new hunting links on the Hunting Page and updated the links on the Links Page 3/12/99
Posted a 5 shot group shot with the T/C Contender 17 Ackley Hornet and 20 gr. V-Max Bullets moly on the Varmint Hunting Page 3/12/99
Posted a few 5 shot groups shot with the T/C Encore 223 Ackley Improved and 40 gr. Nosler BT's moly on the Varmint Hunting Page 3/12/99
Added a Lathe Biography leading up to the purchase of my Mini Lathe on the Mini Lathe Page 3/8/99
Added a Marquee (which is also a hot link to the details) of IMPOTUS' "women" on the Gun Rights & Politics Page 3/7/99
Posted pictures of the Encore with the 223 Ackley Improved barrel from Virgin Valley showing close-up of the action on the Varmint Hunting Page 3/7/99
Exchanged links with Harbor Freight Tools on the Mini Lathe Page 3/7/99


Last Updated:2/18/2015
End of Page