Backpacking at Winnemucca Lake
near Carson Pass, August 1998
Some of the beautiful brook trout from Winnemucca Lake. There is nothing more tasty than fresh fried mountain trout.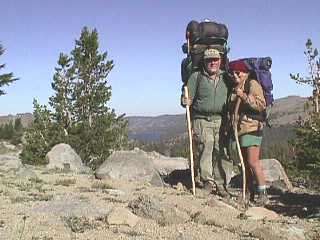 Here we are on the trail again with our packs on. Three days of perfect weather. The packs look heavy, but with food for only three days, they were not very heavy. We took the pictures with our new Sony MVC-FD7 digital camera that writes the picture files to a floppy disk. The images were compressed and optimized with WebRazor software.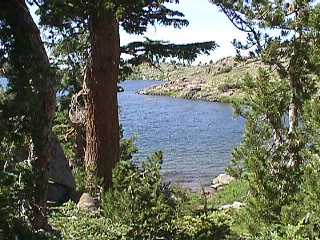 This is the view from camp looking west along the shore of 9,000 ft. Winnemucca Lake. It sure is a beautiful lake with loads of wildflowers.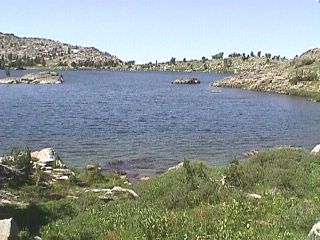 The wind blows a lot at the ridge crests and it was windy when I took this picture. Except for strong winds, the weather was prefect for 3 days.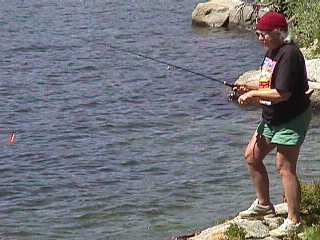 Here is Mary Ann doing her casting practice. She is using an orange float and a fly. The wind was helping her with distance, but not accuracy.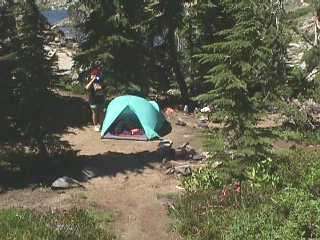 When backpacking, home is where you take off your pack. Here is our home away from home in a secluded camp site. The weather was so good, we didn't need the tiny 3.5 lb. tent, but just in case it might rain.......
The lake water is very clear just like the clear mountain air.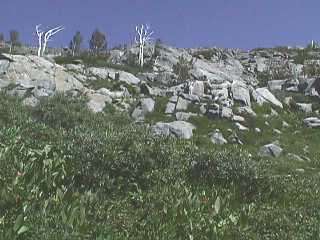 The wind blows so much, it has blown the bark off the windward side of these trees. The white tree on the right still has living branches on the leeward side.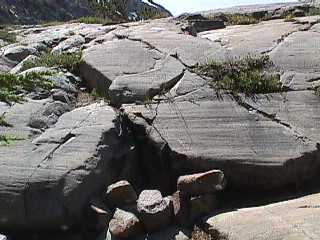 The gouges of glacial polish and the direction the glacier moved are visible on the rocks just 20 feet from our camp site. If the eco-freaks want to put this area back to the original condition, it would take a 500 foot thick glacier here!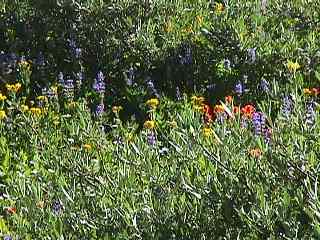 Yes there were flowers, lots of flowers, everywhere. We don't even know the names of all the flowers, but it was fun to take their pictures with the digital camera.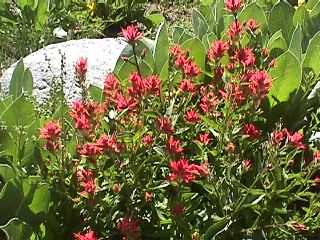 Indian paint brush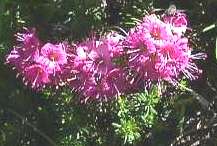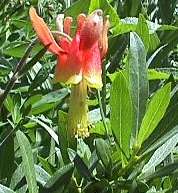 Mountain Heather and Columbine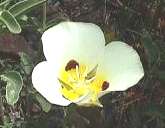 Mariposa Poppy, ?, Fleabanes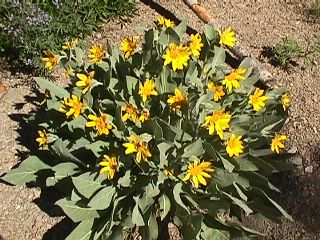 Mules Ears
Mary Ann on the flower garden path.