The Hunt Club is no longer in operation.
This page is merely for historical purposes.


Pat, Brent, and Steve in one of the sunken blinds. Drake is watching and ready to fetch ducks.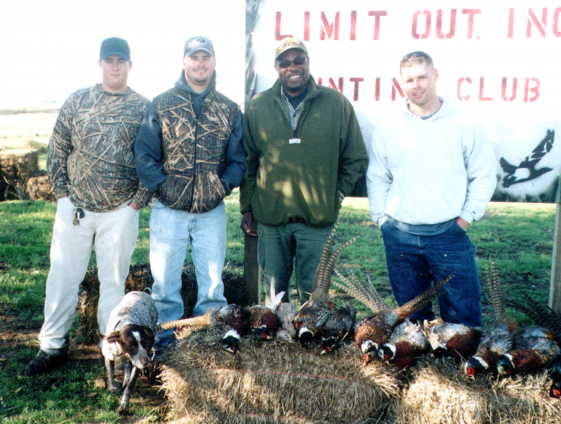 Pat, Steve, Dusty Baker, and Brent after a good Limit Out Pheasant Hunt.
Dusty Baker frequents our Hunting Club. Check out Dusty Baker's Web Site.
The LIMIT OUT, INC Duck & Pheasant Hunting Club is in the heart of the Delta with two miles of water front. The waterways here in the Delta attract ducks and geese and the grasslands provide excellent cover for pheasants. We have 6 duck ponds ranging in size from 6 to 20 acres. In the past, the 600+ acre property was used for cattle grazing. We removed the cattle two years ago and the growing seasons have resulted in a good crop of cover. We plant Milo maize to attract and hold the wild fowl and to keep the pheasants well fed. With the maize crop left standing, and the surrounding natural grassland cover, the pheasant population has exploded. The old ranch house has been converted into a large Club House Lodge that is a comfortable setting for discussing the hunt and has accommodations for up to 12 hunters overnight. We still have a ton of work to do, but our goal is to continue making improvements every year and make LIMIT OUT, INC an easily accessible, exciting, enjoyable, unique, and successful place to hunt.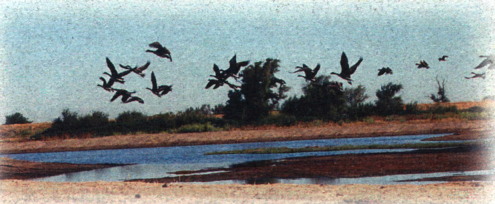 The Honker Bay Pond with a flight of Canada Geese

Early morning and heading for the blind.
Pat calls ducks with a Paul Kingyon Duck Call
and can make it sing.

Hunting area features include:

DUCKS & GEESE

600+ acres on Bethel Island in the heart of the Delta and the middle of the flyway

Two miles of water front on Piper Slough

Six incredible duck ponds, each with a central sunken blind

Six dozen decoys surround the blind at each pond

Club House access, with a big fireplace and over night accommodations

PHEASANTS

Pheasant hunts for wild or released birds

400+ acres of excellent natural grassland cover with fields and ditches thick with pheasants

Bethel Island is about 10 miles east of Antioch.


Map of Bethel Island, showing the Limit Out Hunting Club boundaries


Steve and Dennis with Drake checking the rooster for smell.


Brent after a morning's hunt

General Manager Steve Hoover
Email to Steve Hoover

LIMIT OUT, INC.
Private Game Bird Club
Licensed under Regulations of
The Fish and Game Commission
(LGBC 600 - LIMIT OUT, INC.)

View Our Guestbook
Sign Our Guestbook
Webmaster Varmint Al